Description
THE PERFECT LINT & PET HAIR REMOVER FOR CLOTHES, CARPETS AND FURNITURE
There's no need to throw away your old and worn out clothes, carpets, fabrics, furniture, sofas, bed sheets or car upholstery, because now you can restore their shine and beauty back to looking fresh and brand new.
With Lint Remover Pro™ you can remove lint, pet hair, pilling, fuzz and fluff without effort.
Save Time And Energy – Removing lint, pet hair and pilling does not have to be stressful and hard work. With the Lint Remover Pro™ you can easily keep your home looking clean and beautiful.

Saves Money – Don't throw away your favorite clothes, worn out furniture or pilled pillows yet, just because vacuums and sticky papers don't work! Now you can enjoy clean home and looking fabulous for many years to come.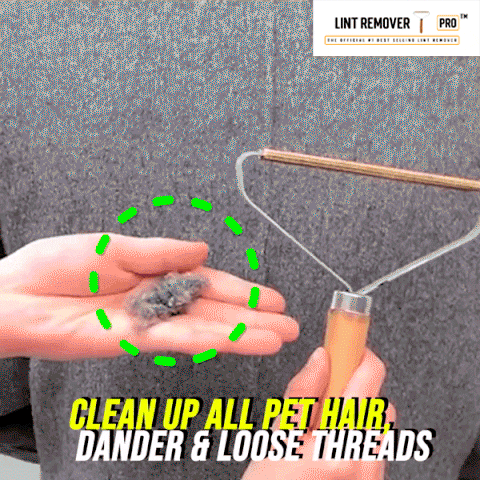 A Must-Have For Pet Owners

 

– All pet owners know that removing pet hair from carpets, furniture, sofas, pet beds, clothes and car seats can sometimes be a disaster. Electric removers and sticky adhesive tapes costs money and using them is slow, draining and ineffective. 
The Lint Remover Pro™ is portable, easy to use, and super effective. 

You'll be amazed at just how much pet hair and animal fur your fuzz shavers, sticky tapes and vacuum cleaner misses!
" Lint Remover Pro is a gamechanger! Just after the first time of use I was shocked how much pet hair there was in my house! My carpets has never been this clean. This is a must have for all pet owners."
Sarah, United States – ⭐⭐⭐⭐⭐
Comes With A Lifetime Warranty –

 

Lint Remover Pro™ is durable, handmade and built to last. This is why we are proud to give our product a Lifetime Warranty. If your Lint Remover ever gets damaged, just contact our customer support and we will ship you a

 

new Lint Remover Pro™ free of charge!
LINT REMOVER PRO IS MADE FOR:
Removing pilling and bobbling from clothes

Revitalizing furniture, couch and sofas

Removing stubborn pet hair from carpets and car upholstery

Cleaning fuzz, fluff and lint from jackets, coats and outwear
HOW TO USE THE LINT REMOVER PRO?:
1. Place the clothes, carpets or fabrics on a flat and firm surface
2. Roll Lint Remover Pro™ across the material with slight pressure
3. Gather all the removed lint, pilling and pet hair into a trash bin
4. Enjoy the feeling of having a clean home and brand new looking clothes once again