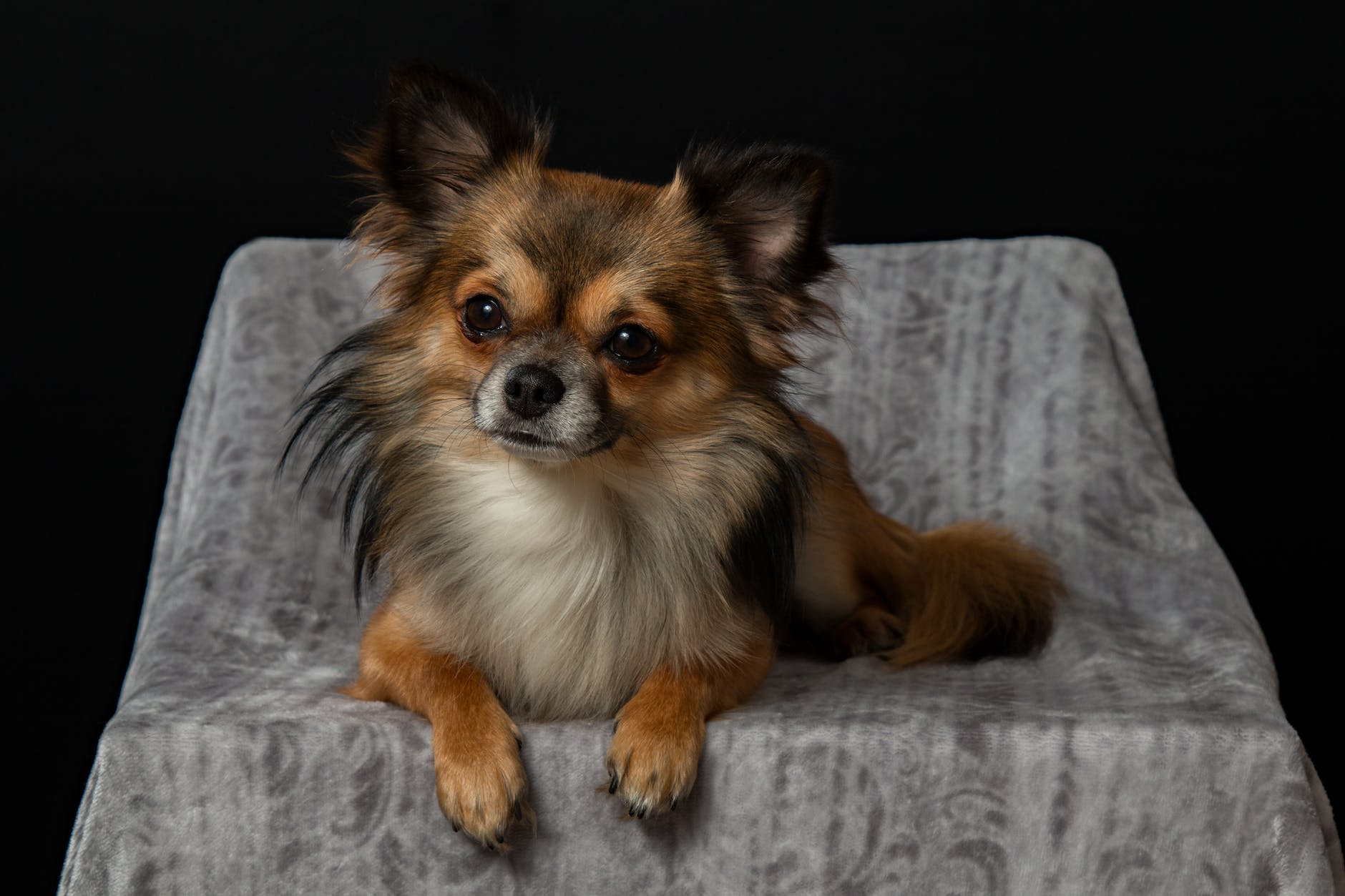 Is there anything cuter than a Chihuahua wearing a cozy and fashionable hoodie? Small dogs like these deserve all the comfort and warmth we can give them, especially when it's cold outside. Luckily, Chihuahua hoodies can make these pooches not only warm but also stylish. That's why we made a list of the top 8 picks that can suit different occasions. They are carefully crafted to respond to their needs and fit their small bodies.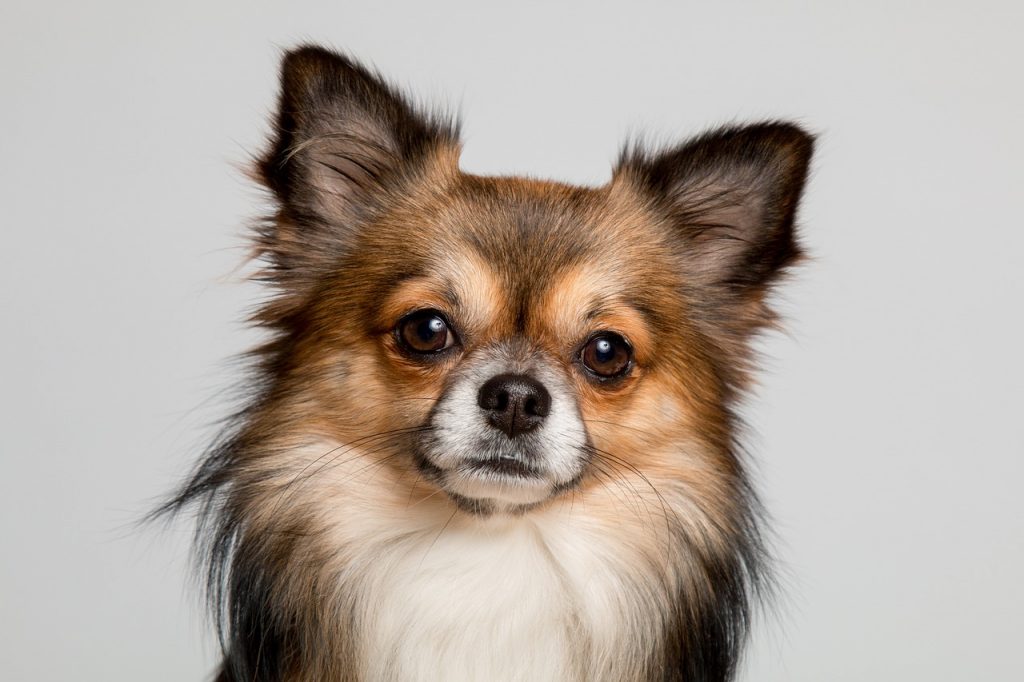 Why do Chihuahuas need to wear hoodies?
We all know that Chis are small in size. They have tiny bodies, and less body fat than bigger dog breeds. Just like other small breeds such as Yorkies and Pugs, they require wearing protective clothing in certain situations.
If you're still not sure what type of clothes to choose for your Chihuahua, the good news is that our shop sells items that are specially tailored to fit their physique.
Chihuahua hoodies are essential items for colder months such as autumn and winter. They can be made from fabrics such as cotton, polyester, or mesh and can be great protective layers in certain situations.
We listed all the reasons when does your pooch need to wear clothes:
Protection against hypothermia:
Chihuahuas have a tiny layer of coat of fur that doesn't do much to keep them warm in cold weather. Their small bodies lose heat quickly, which makes them more likely to get hypothermia when it's cold. This is especially dangerous in the winter or in other cold places. A Chihuahua jacket, sweater, or hoodie that will fit your dog well will provide insulation, and help them keep their body temperature within optimal ranges. Note that Chis are small, so they have a higher tendency to get hypothermia.
Allergen barrier:
Just like people, dogs can be allergic to certain things in our environment. Chihuahuas bellies are low to the ground, so allergens like pollen, dust, and other elements that can irritate their skin or cause allergies are easy for them to come into contact with. Wearing a hoodie protects their sensitive skin from things that might irritate it. This makes them feel better and reduces the chance that they will have an allergic reaction.
Keeps dead hair under the clothes:
Chis belong to moderate shedders, which means your house can be quite messy during the shedding season. Believe it, or not, Chihuahua hoodies can keep a lot of hair under them, so your house can stay a bit cleaner.
Besides, hoodies for Chihuahuas are sometimes essential to be worn indoors when the temperature is low outside.
Chihuahua hoodies can be very stylish:
Let's not forget that style is important! And, to be honest, the Chihuahua in a hoodie meme is one of the funniest we can find on the internet! Chis are one of the most hilarious pooches and complete winners when we talk about making funny faces. There are a lot of cute and trendy hoodies to choose from, so you can dress your dog for different events or just show off their unique style.
Enjoying safe adventures:
These dogs are full of life and love to go for walks, hikes, and play outside. But cold weather can put their health in danger. Chihuahua hoodies can make their outdoor adventures even more fun by giving them the extra safety and warmth they need to stay safe and comfortable.
How do I choose the right Chihuahua hoodies?
Since we all want to put our dog's safety, comfort, and health first, there are a few things we have to consider when picking clothes for our Chihuahuas.
Here's a guide to help you make the right choice:
Consider the material of hoodies for Chihuahuas:
Choose materials that are both comfortable and functional. Lightweight cotton is ideal for warm weather, while fleece-lined alternatives are ideal for cooler months. Make sure the material is soft and does not irritate your Chihuahua's sensitive skin.
Design and style:
Consider your Chihuahua's personality as well as your own preferences. There's a sweatshirt style for everyone, from traditional solid colors to bright patterns and unique designs. Some hoodies even have distinctive patterns, colors, or decorations.
Consider the features of a hoodie:
Look for hoodies with certain features based on your demands. A hoodie with a built-in harness hole is useful if you frequently take your Chihuahua on walks. Hoodies with zippers or buttons may be easier to put on and take off, particularly for dogs who are not used to wearing clothing.
Mobility and comfort:
Make sure the hoodie allows your Chihuahua to move freely. There's nothing worse than seeing a dog walk awkwardly or show strange behavior while wearing clothes.
Make sure the sleeves and neck opening are not too small. Your puppy should be able to freely walk, run, and sit in a comfortable hoodie. He/she should be able to normally climb the stairs and jump as well.
Consider the durability:
Despite their small size, Chihuahuas can be highly active. Choose a Chihuahua hoodie composed of durable materials that can resist your dog's movements and probable roughhousing. We all know that our dogs love to roll in the grass or on the floor, which can damage the hoodie's fabric.
Consider the season when picking hoodies for Chihuahuas:
Consider the weather in your area. If the weather changes throughout the year, having a combination of lightweight and warmer hoodies will keep your Chihuahua comfortable no matter the season. Short-haired Chis should wear lightweight clothes to stay protected from harmful UV rays. It might sound weird, but some pooches with extremely sensitive skin require wearing protective layers even in sunny weather.
A lesser-known fact is that dogs can experience sunburns despite having fur. Dogs are susceptible to sunburns, just like humans, especially in places with thin fur or exposed skin, like the nose, ears, belly, and the area around the eyes. To protect our canine friends from the possible discomfort and health hazards connected with sunburns, it's crucial to take steps like offering shady locations and pet-safe sunscreens.Wearing lightweight summer clothes is also essential, especially if you own a short-haired Chi.
What are the best picks for Chihuahua hoodies?
Every pooch needs to have a basic piece of clothing in their wardrobe. Basic Chihuahua hoodies are great for everyday wear and can be easily matched with different outfits. The pick we selected is made of cotton, and it features a ribbed hem and cuffs for better movement.
It's available in four colors and has been carefully created to suit toy dog breeds such as Chihuahuas, Yorkies and Shih Tzus.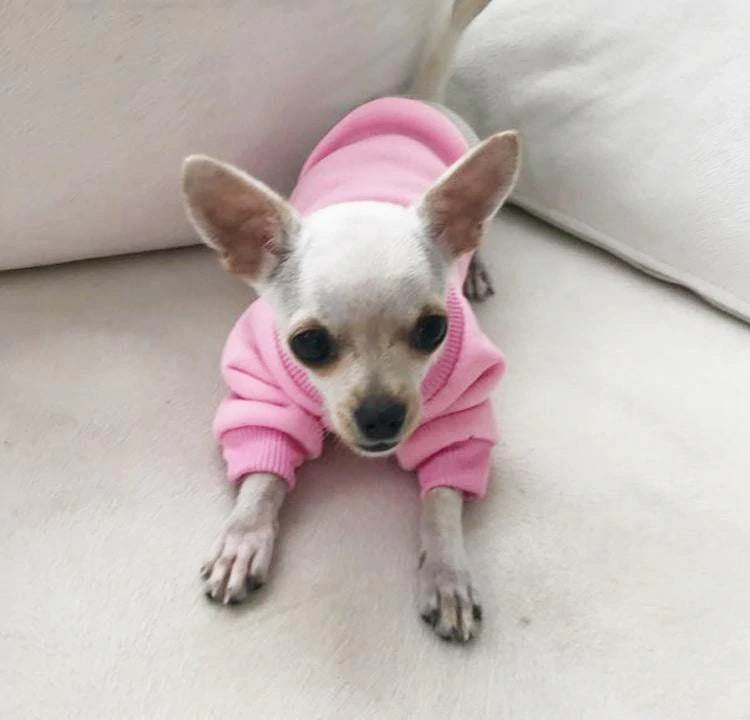 The Adidog Hoodie for Chihuahuas is more than just a jumpsuit for dogs; it will quickly become your dog's favorite piece of clothing, especially in the winter. It covers a big part of your Chi's body and has a high belly cut that is cleverly made to stop potty accidents.
This hoodie, whose design is based on the famous Adidas sports brand, makes it easy to match your dog's clothes to your own. So, whether you're walking down the street or going to the park, you and your furry friend can wear outfits that look great together.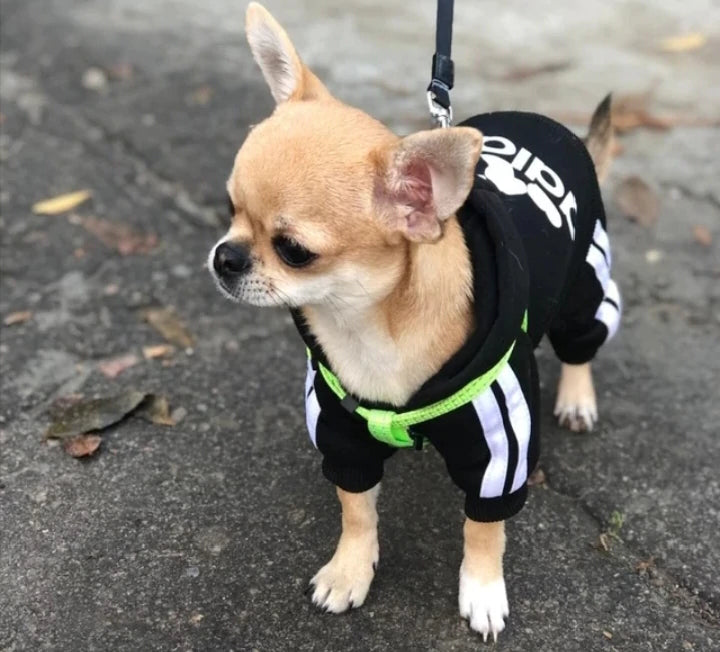 Decorated with a funny inscription on the back, this hoodie for Chihuahuas will be the perfect pick for the crisp autumn and winter seasons. It's made of breathable cotton and features a fleece lining for better warmth. Since Chihuahuas are prone to hypothermia, this adorable dog hoodie can also be matched with one of our Chihuahua Winter Clothes for a complete look.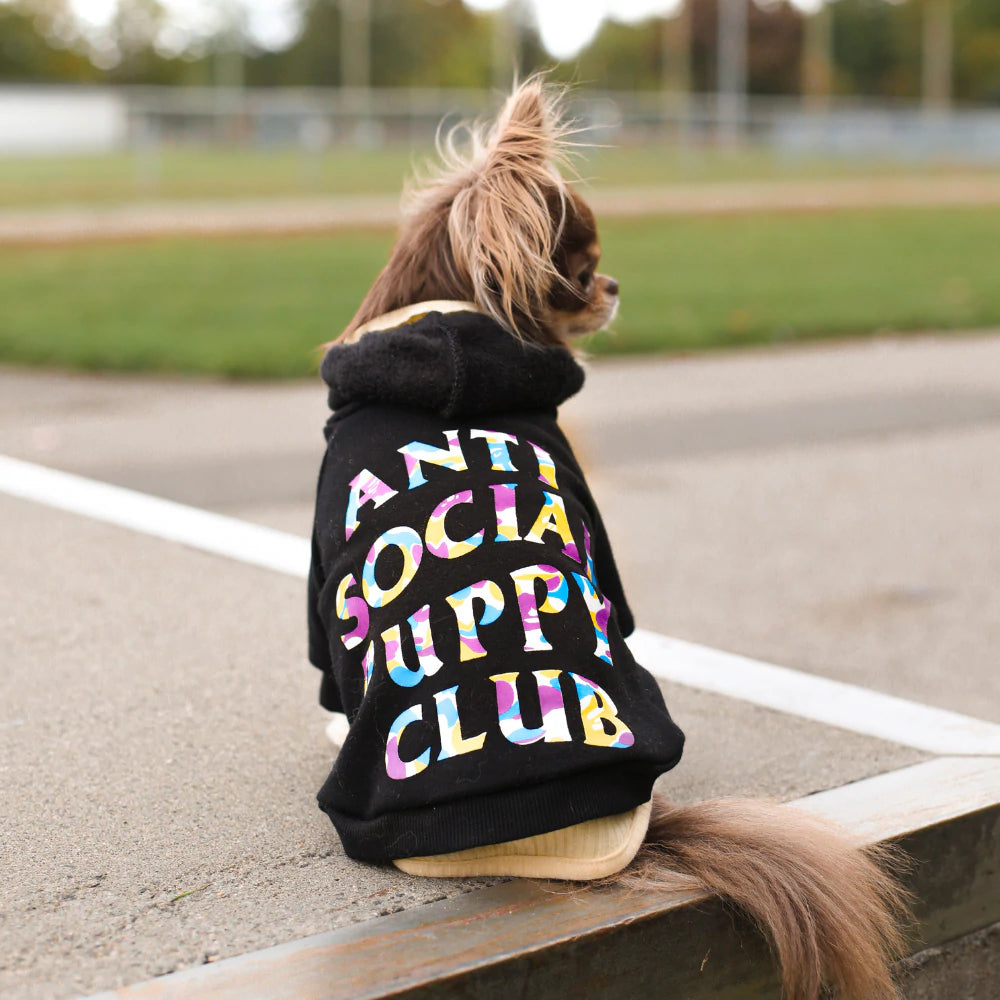 This hoodie, with its luxurious print reminiscent of Louis Vuitton, is more than just a fashion statement. The superb craftsmanship and attention to detail are hallmarks of the Louis Vuitton luxury brand. Not only is this hoodie comfortable and warm, but the large "Supreme" logo on the back gives it a dash of cool city style. Your beloved companion will walk with pride and attract admiring glances everywhere you go.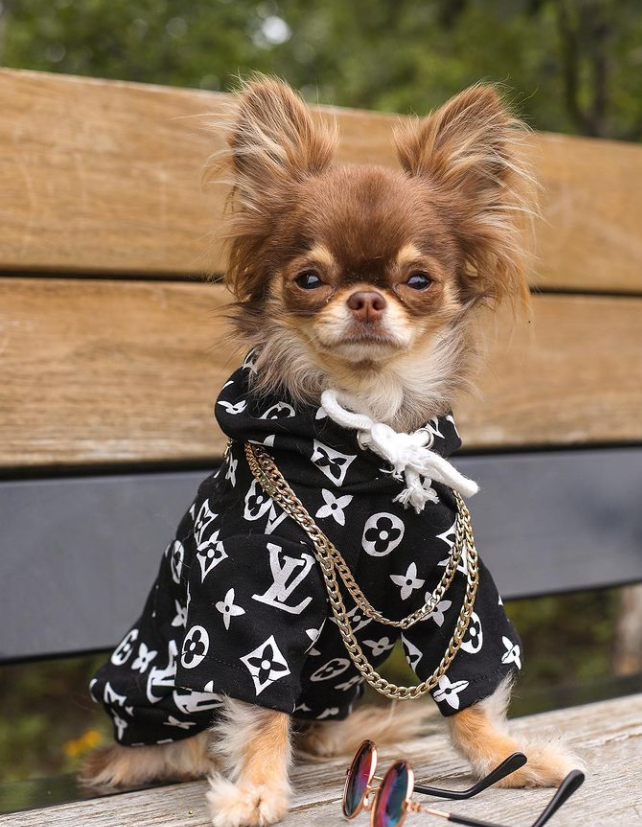 Inspired by the Fendi fashion brand, this is probably one of the trendiest Chihuahua hoodies you'll find on the market. We adore the fancy stripes on the sleeves and the hood, as well as the breathable fabric it's made of.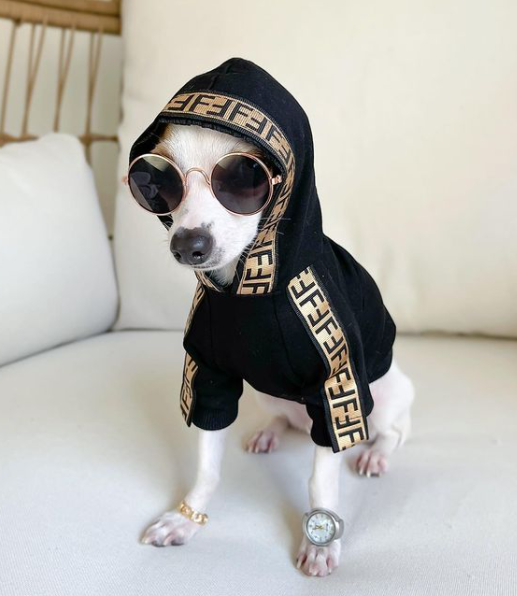 When it comes to safeguarding your space, who needs an alarm system when you've got a pint-sized powerhouse like your Chihuahua? Our Security Chihuahua Hoodie takes your pup's protective prowess to a whole new level while serving up a side of laughs and undeniable charm.
This hoodie is made of the softest cotton and shows that your Chihuahua is the best guardian of your kingdom. It's not just a fashion statement, though. With the funny word "Security" written on the back, your four-legged guardian is sure to catch people's attention and make them laugh wherever they go.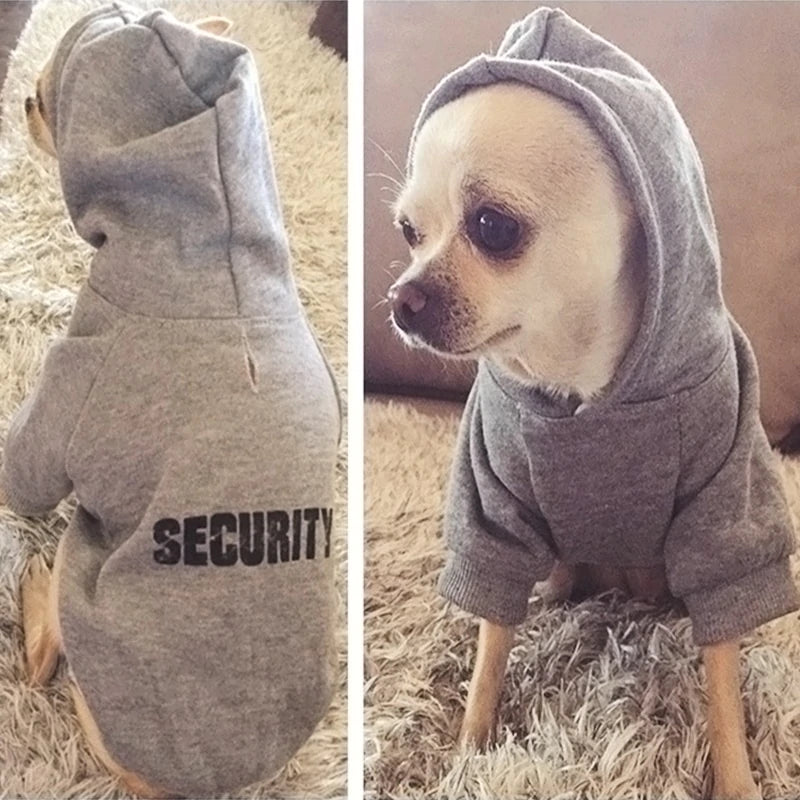 Who needs Cupid when you've got a Chihuahua? Introducing the Red Hearts Dog Hoodie, your pup's express ticket to becoming your ultimate Valentine, 365 days a year. This hoodie isn't just a piece of clothing; it's a heartwarming declaration of the love that you and your Chi share, wrapped up in a package of irresistible adorableness. From the park to the living room, your pup will radiate love vibes that might just make other dogs a little envious.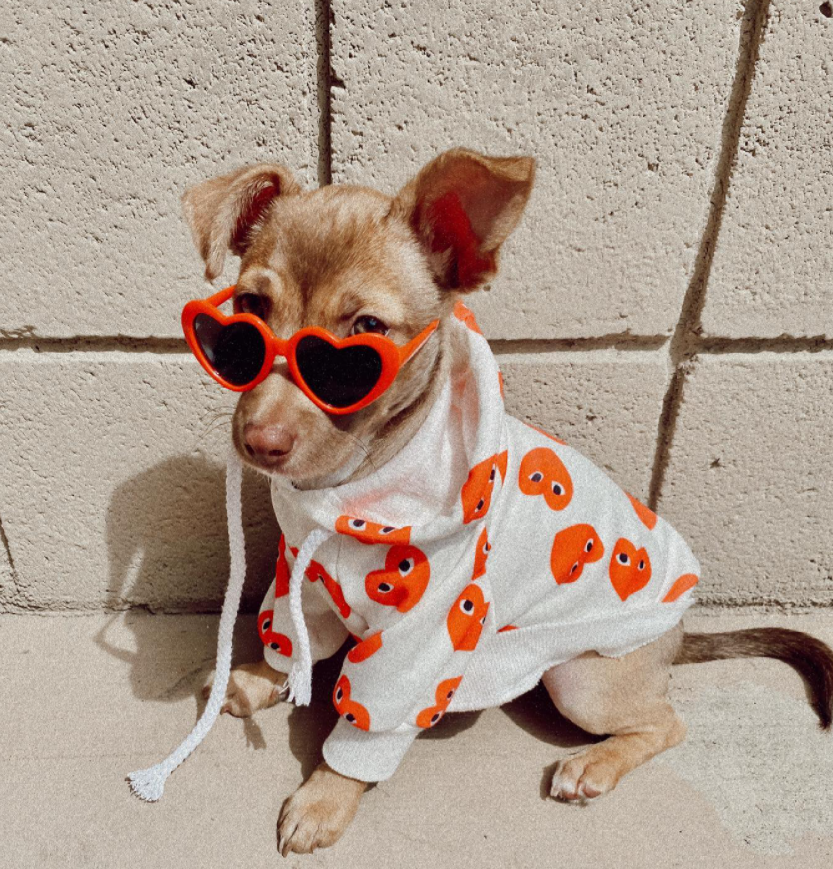 Don't let Halloween pass by without making your Chihuahua the star of the show. With our Chihuahua Halloween Costume, you can turn your small dog into the life of the monster mash. With choices like a frog, apple, carrot, pear, or even a plum (yes, you read that right! ), your furry friend is about to become the star of the trick-or-treat parade, making people laugh and gasp wherever they go.
Is your Chihuahua a little bit amphibious? Put them in the frog outfit and watch as they hop around, making your walks a hopping good time. Do you like fruit? With the apple, pear, and plum choices, your dog will look so cute you might want to take a bite (don't worry, we won't tell).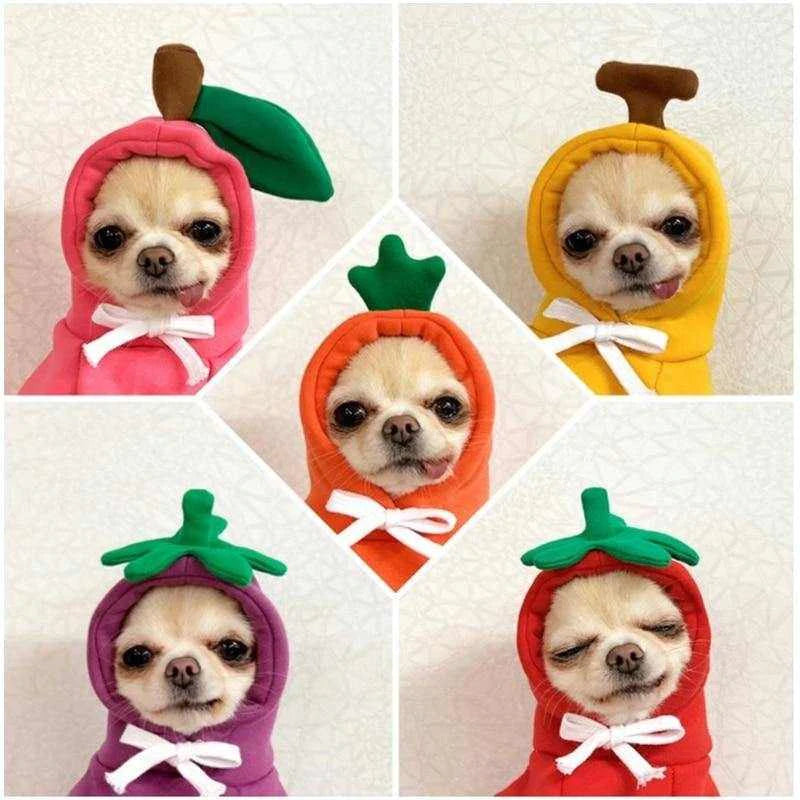 Chihuahua hoodies: Wrap your furry friend with style
We all want our Chis to feel snug and safe in cold weather. Since they can start to shiver, shake, and show signs of hypothermia very easily, buying them protective clothes is overneeded. Whether you're buying a jacket, hoodie, or sweater, one thing is essential. Always consider your dog's behavior and body language while wearing it. Your furry friend's comfort is priceless!